Bagua Grande, Amazonas
Peru, South America
cholesterol
triglycerides
gastritis
tumour
I am 66 years old. The first time I came to Homa Therapy with headache and I was angry. But I came out like new, thanks to Agnihotra.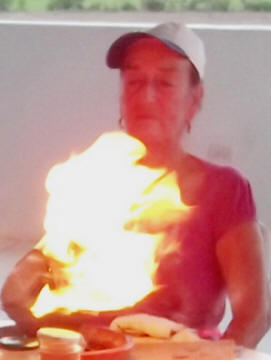 I also had stomach problems from taking pills to lower my cholesterol and triglycerides level. These pills gave me gastritis. With the practice of the Homa fires, I also got rid of the gastritis. Since more than a year I do not need to take more pills for cholesterol and triglycerides.
I also have been suffering with myomas (tumors in the uterus) for a long time. The doctors removed a myoma 15 years ago in a Chiclayo hospital. But an ultrasound that I took several months ago, showed a one inch myoma.
When I started the practice of Agnihotra, I prepared the Agnihotra ash cream and rubbed it on the lower abdomen. I also consumed Agnihotra ash. The last ultrasound showed that the myoma has disappeared.