Albuquerque,
New Mexico, USA
Accident
Noma Cosmos, 74 years of age, came to her first Agnihotra meeting in Albuquerque with a walking frame that also served at the same time as a wheelchair. Her hand was bandaged, due to an operation that had left her with pain and without the strength to hold a glass or do anything with her hand. She was suffering from pain all over her body for more than three years, but specially her back and arms hurt after an accident.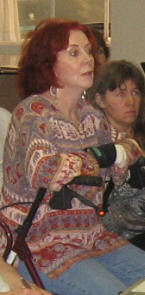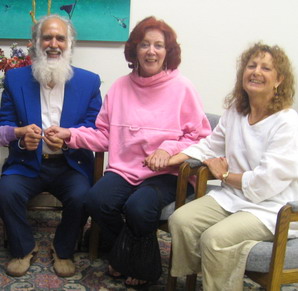 She received the healing power of 10 Agnihotra fires and took the Agnihotra ash home. After taking a bath and using the Agnihotra ash all over her body, she felt so good she did not want to go to bed. But she slept 10 hours straight (she normally used to get up 2 or 3 times at night).
Two days later at the Agnihotra gathering in Santa Fe, Noma came to give her testimony of healing. She had left her wheelchair at home. She got up from the chair without any help; she could walk without any help; she had gotten out of bed like a healthy person (normally she needed half an hour); she could even cross her legs and she could hold a glass with her
fingers and use her hand. And the most important thing is that the pain had disappeared. She is very happy and grateful to the Divine.
Picture at left shows Noma Cosmos at her first Agnihotra meeting in Albuquerque
Picture at right shows 2 days later, a happy Noma Cosmos with her friends, Abel and Ivy