Santa Marta, Colombia
South America
Osteogenesis Imperfecta
I am 18 years old. Yesterday, I was participating in Agnihotra in the home of Mr. Rafael and his wife, Maria Cristina. And during the fire, I felt an energy that ran up my right arm and my face. I felt this energy inside my body fighting obstacles like a force that expanded. It was an impressive force, dragging away everything on its way.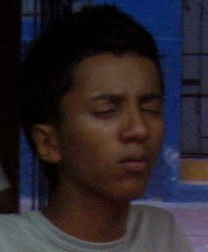 It fills me with happiness to see how our thoughts and Nature can help us. My illness is "osteogenesis imperfecta". First of all, the doctors told my mother that I would not reach 4 years of age. When this time arrived, they said that I could live till the age of 9. Now, I am 18 years old, thanks to God.
With the alternative medicine and Homa Therapy I see other changes, different to what the doctors say. This morning, I practiced Agnihotra with Mr Oscar and again I felt that energy inside my body with more force. It almost made me elevate. I felt that it went directly to the affected areas of my body. I am truly very happy and want to continue practising Homa Therapy.