Piura, Peru
South America
Premature Birth
I am 34 years and during my pregnancy I began to feel severe pain. I went to the emergency ward of the hospital and my hemoglobin was tested at 7.0. I was in the 7th month of my pregnancy.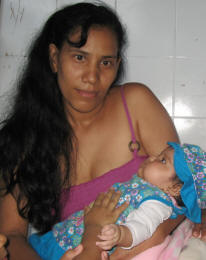 My daughter was born in a quick delivery and she was placed in an incubator for two days. My premature baby made no sound and had no movement. The hospital wanted her to stay, but this was too expensive. Her lungs had not yet been developed. She was born weighing only 1800 grams. The baby was just sleeping and did not cry for food. Then at home, we started taking the Agnihotra ash every day. I put a little Agnihotra ash on her tongue and placed it on her forehead in the form of a cross.
After two days, she began to move and seek the breast. Since then I am breastfeeding her and she has started to gain weight. I also take the Agnihotra ash every day in the morning and at night before bed and I bathe my daughter with Agnihotra ash. Now, she is 2 months old and weighs 6 kilos. I attribute this miracle to Homa Therapy.