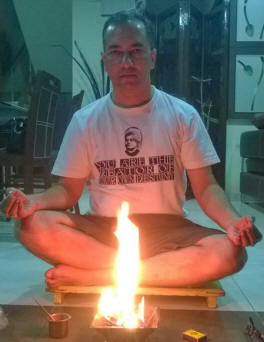 Expert Engineering Enterprises
Belgaum, Karnataka, India
I am the proprietor of an engineering factory in Belgaum, Karnataka where we practise Agnihotra every day. I am 45 years old and I perform Agnihotra regularly. When I practise Agnihotra I stare at the flames with my bare eyes.
My eye glasses' diopter number has reduced thrice in last 2 years: Right Eye from -1.0 to -0.25 & Left Eye from -2.0 to -1.0. (Editor: We received the previous and the recent copies of the test reports, confirming this improvement.)
Also I was hypertensive a few years back. After performing Agnihotra for one year regularly, with the physicians approval I have stopped taking the Blood Pressure tablets for past 3 years. Since then I have become eligible for blood donation and I have donated blood 3 times in last 3 years.
I also got my routine health check-up done in the last week and found that all parameters are in perfect order. This reinforces my faith in the "Sacred Homa Healing Fire."