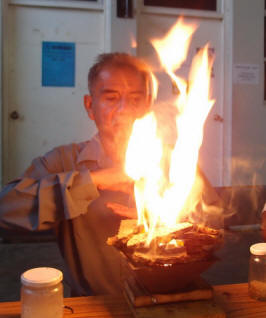 Reategui Hospital
Piura, Peru, South America
I am 59 years old. I was suffering with diabetes for 10 years. I was feeling a lot of pain and coldness in my legs and arms, especially at night. I could not sleep. I started doing Agnihotra and I started to feel good, I can sleep better. I am doing Sunrise and Sunset Agnihotra and Tryambakam Homa. I am experiencing changes. Prior to that, it was a martyrdom of pain. Now I can sleep.
Previously I did Agnihotra irregularly and it helped a little. However, when I started doing Agnihotra regularly and taking the ash daily, I began to feel much improvement. I have also felt that Om Tryambakam Homa has helped me a lot.
I fill a quarter of a 3-liter bottle with Agnihotra ash, then I add water and shake it well. Then I let the ash settle on the bottom. The water becomes transparent and I drink it all during the day. At first, I felt I have to urinate all the time.
With this, my pain in the legs is completely gone. When I take the Agnihotra ash, it is like eating, and I need to eat less food. Nevertheless, amazingly I have gained weight. Before the Homa Therapy, I weighed 45 kilos and now I am 56 kilos. This change occurred in a month and a half approximately. This is great for I feel like a 30-year-young man. It is amazing.
(Photo: Hermes Salazar practicing Agnihotra in the Reategui Hospital. He always makes very big Fires.)