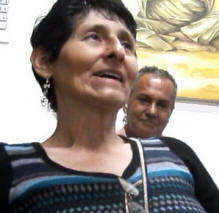 Rosa Aguirre
Armenia, Colombia, S. America
I am 55 years old. I found out about Homa Therapy through my neighbor. He knew that I have been sick for 22 months, only in bed. They had to carry me, because I could not get up, nor do anything. I could not dress or feed myself. I could not be left alone.
It was a very difficult situation. I was becoming increasingly invalid. I was tested everywhere and visited all kinds of Medical Doctors. CT scans and other painful tests were done. I was tested in the cities of Pereira and Manizales, but they did not give me any diagnosis. I just became increasingly weak and invalid. I lost 14 kilos.
Then my neighbor asked my husband, 'why don't you bring her here to the Homa Medical Center Botica de la Abuela?'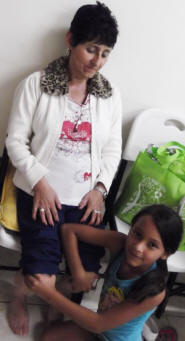 Ms. Rosa Aguirre (far left) during Agnihotra in the Homa Medical Center 'La Botica de la Abuela'.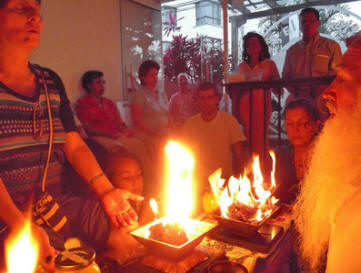 So I was brought here and I could not believe it – I started to sleep! This was happiness to me because I had not been able to sleep. But that changed during the first week with Homa Therapy. So my husband saw the improvement and brought me every day. I come to the Agnihotra fire and take its ash and breathe the healing smoke.
My granddaughter Nicole, who always accompanies me, used to urinate in the bed. Doctors had told her that her bladder was too small and that is why she could not hold the urine for long. But now she is fine. Also her feet hurt. No more bedwetting and no more pain in the feet.
And I feel great, thanks God. Now, I am able to get up. I dress alone and can eat without help. I can cook food for my children. I now use the walking stick only for better balance on the street, but at home I do not use it any more, neither the walker. Before I could not raise my hands above the shoulders, now I can. Before I had a very sore neck, not anymore. Now I am able to comb my hair and apply make up and take a bath. Now I have a lot of willpower and feel very inspired. All this has happened in the last 3 months with Homa Therapy. It is the Holy Spirit that brought me to the fires through my neighbor and I've also brought other people to Homa Therapy.
Photo right: Granddaughter Nicole is warming her hands over the Homa fire and then places them on her grandmother's knees.