Homa Center "Vida Nueva" (New Life)
Alborada, Guayaquil, Ecuador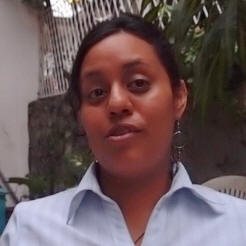 I am 25 years old. I had a problem with polycystic ovaries. Since I was a teenager, I had problems with my menstruation. Sometimes, between one period and the next, 2 or 3 months passed; I was rather irregular from the beginning. I started menstruating when I was 10 years old. Since that time, I was prescribed birth control pills.
It seems that eventually they harmed me for health checks showed that the cysts increased rather than decreased. At that time, I was 15 years old. Then, not only one ovary was damaged, but both of them.
I was treated by six MDs (gynecologists) for several years. The last doctor said that nothing could be done and the uterus and ovaries should be removed. I was 20 years old. That day I went home, I hugged my mom crying and told her that I could never become a mother. But I did not want to have surgery or take more pills.
When I met Viviana, I was 22. She told me about Homa Therapy. At first, I did not understand much and I was somewhat incredulous. Then, she invited me to a health convention. When the doctor said 'when you breathe in the smoke, also place your hands in the area where it hurts you.' I remember that I put my hands on my belly and on the stomach. And the first thing I did, was to ask for the cysts to go away. I pray very much. Viviana gave me Agnihotra ash and I started taking it. I did this for a month until I came to her Homa Center "Vida Nueva". I was taking the Agnihotra ash in juice, in water, in shakes or pure. After 6 months, Viviana told me to do my health exams because she had to travel to Italy for a few months. However, I never took the test, I just continued with the Homa treatment. That was in October and in December, I was already pregnant. The pregnancy was a normal 9-month gestation. Now my son will be 2 years old and he also takes the Agnihotra ash."
(Photo: Karen Cueva Noboa giving her testimony at the Homa Center "Vida Nueva".)