A study was done in the Army Hospital, Delhi Cantonment, on a 25 year old infantry officer who was addicted to heroin. The study by GOLECHHA, DESHPANDE, SETHI and SINGH was published in the Indian Journal of Psychiatry, July 1987.

The officer who was a poly drug abuser in the past (tobacco, alcohol, cannabis, cocaine), was introduced to heroin in Oct 1984 and started with 0.25g per day. Within 10 months this increased to 3.0g per day.
Two previous attempts at deaddiction by normal psychotherapeutic approaches had failed. The subject was demotivated and resistant to attempts to help him.
In Oct 1985 he developed severe withdrawal symptoms when he could not get the drug. In Dec 1985 he was transferred to Army Hospital, Delhi Cantonment.
In March 1986 he was introduced to Agnihotra. He developed an inclination for it and voluntarily joined the group performance. After 7 days he began to practise Agnihotra himself.
A simple rating scale was developed to roughly quantify his progress.
Scoring of the urge to take the drug and the motivation to leave it were recorded on a scale from 0 to 7 with 7 representing both high urge to take the drug and high motivation to leave it.
Urge and motivation were observed from Dec 1985 through to Jan 1987.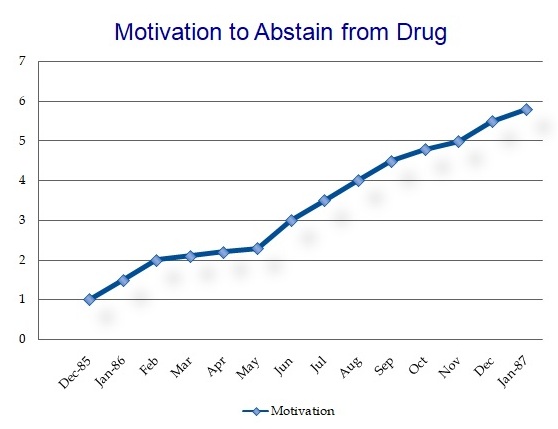 A steady increase in motivation to abstain from the drug was noted throughout the period of the study.
A huge decrease in urge to take the drug was noted after starting Agnihotra in March 1986 and it stayed at this reduced level even after he stopped practising Agnihotra in Aug 1986.
Result: Successful deaddiction from Heroin.