Popayan, Colombia
South America

Stomach Tumour
"I am 64 years old. My cousin heard the invitation to Homa Therapy on the radio. I told my cousin that she could take me anywhere but not to the hospital. She told me that Homa Therapy was in the SENA (National Learning Service) of Popayan. So I told her that I will come because the pain and cramps were terrible. So when I came here I was very seriously ill. I just couldn't go on any longer.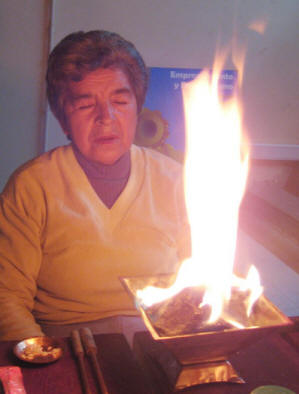 I almost fainted from pain when I reached the SENA. After the Homa presentation, after listening to the testimonies and participating in the healing session with many Agnihotra fires I was told that I looked better. For 38 years, I was suffering from this chronic ulcer and growth. In the State Hospital, I was prescribed capsules and treatments which helped me a little, but I got worse afterwards.
The best that could have happened to me is to come to know the Homa fires! From the first time I was here in the SENA, I began taking Agnihotra ash with water at 6 am, at noon and 6 pm. After 10 days, the pain still continued and at 5 o'clock in the morning I had a very horrible colic pain. I went to the bathroom and almost fainted. I had something like a bowl movement and blood came out with a tumor of the size of an orange. That ball was black and big. I continued for 5 days expelling blood clots. Then, for 3 days, everything was good. Then I started expelling something like large strips for another 3 days. After that, my health improved gradually. Now, I'm OK.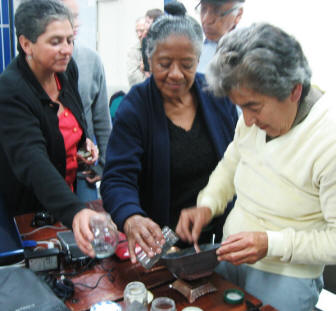 Before, my stomach was swollen and I could not even button up my pants. I could touch that ball in the pit of my stomach. Now, it is not there anymore. In addition, I also suffered a lot from headaches and had nervous problems. Those are gone.
I feel so happy. I feel so lucky, because since then I did not feel any pain again. I practice Agnihotra and I take its healing ash. What could not be healed in 38 years with medical drugs was healed within 2 months with Homa Therapy!"