Castilla, Piura
Peru, South America
back pain
leg pain
depression
I am 52 years old and I am a school teacher. I came to the Anti-Stress Homa Workshop because my back and my legs were really hurting.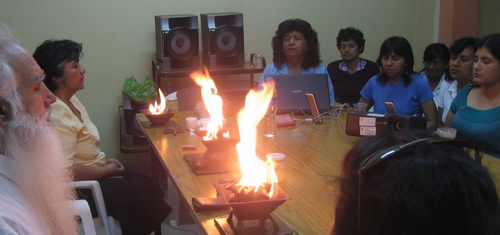 After having participated in the Homa presentation for teachers yesterday, I could climb the stairs up and down without much pain. Before, I had to use the handrail for support. Now, I go up and down the stairs without any problem.
But above all, I feel better emotionally. I was depressed. When I got home yesterday, I was singing with my grandchildren. I felt very happy and peaceful and I slept placidly.
So this Homa Therapy is good and I will continue. I will buy my kit and go on. I will not settle for less.
Mrs Demetria is the 3rd from left in above photo during the healing Agnihotra session after the Anti-Stress workshop with her colleagues.