Lima, Peru
South America
hyperactivity
Celia Berniejo:
"We have a 9 and 1/2 year old daughter; she was hyperactive, restless and also very rebellious. My husband began to attend Homa Therapy. I was at work during that time. He brought the Agnihotra ash home and sometimes he took our daughter with him to do Agnihotra.
Previously, she would refuse to be caressed and rejected any physical contact. Immediately after taking Agnihotra ash, she began spontaneously to come closer to us, to hug us and to tell us that she loved us. She changed completely."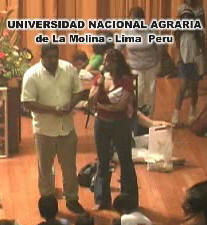 Celia and Marco Berniejo giving their testimony at the Homa Exposition in the "National Agrarian University La Molina" in Lima, Peru.
Marco Berniejo:
"There is still more. The changes in her grades at school were also radical. She came along with me after school to attend Agnihotra. She had to stay till five thirty in the afternoon for tutoring classes. Her grades went from 09, 10 to 14, 16, 18."
"One more thing, my wife is a psychologist, and we tried many different things to help her. We were thinking of taking her to a psychiatrist, but just at that time, we were introduced to Homa Therapy and that has solved our problem."