Guayaquil, Ecuador,
South America
I have been operated on three times. From the breast, they removed some tissue to see if I had cancer, but thanks God, the results were negative. Then I had an appendix surgery and a gallbladder operation; then my husband lost his job. I became very depressed and many problems started in my house.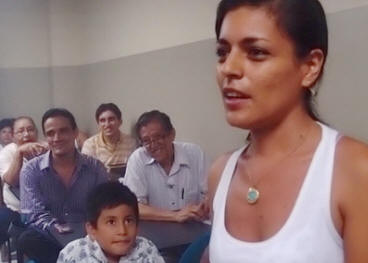 Then I came down with another disease, gastritis and colitis combined, which made me lose a lot of weight. Any emotion, any stress with whatever happened, good or bad, caused me stomach pain and diarrhea.
I am a teacher and every time I had stomach pain, I had to ask a colleague to substitute for me in the class room, so I could run to the bathroom. My co-workers knew I was sick. By the end of last year, I was crying in bed with pain.
One day, my sister Alexandra came to visit and she brought Homa Therapy with her. That day, I felt that my life changed a lot. Since then I have had no more stomach pain and my health improved tremendously. The economic problems, due to the fact that my husband had lost his job, had affected our marriage, but I could see the situation differently and said to him: "I will not find another person like you in the whole world. You are such a good person and at home, you help with everything, mopping, cleaning and all". He truly is a wonderful person and I was about to lose him, but thanks God we're together. We are always together as a family with our 2 children. We go together to church, school meetings, parties, anywhere.
I thank my sister for having brought Agnihotra to my house. And as a final point, I even got a better job.
(Photo: Janet Mendiburo giving her testimony.)